<![if !vml]>
<![endif]>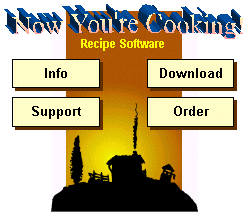 Alternative links in lieu of above graphic links:
60-DAY FREE TRIAL VIA DOWNLOAD
Windows 8/7/Vista/XP/Me/2000/98/95/NT4
Recipe and cooking software to
manage all your kitchen activities.
Read what sets NYC apart
from other recipe software.
Here is some cool stuff
you can do with NYC.
Switching to NYC?
Here is how to get your recipes from
other recipe software into NYC.
Add recipes to NYC in your own language!
NYC spell-checker available in 14 languages!
LATEST NYC RELEASE: v5.90
See changes from previous versions.
Join NYC_Updates to get update notifications!
NYC nutrition analysis is based on
USDA SR25 (8194 food items)
Check out our lifetime free upgrades offer
                                                             (158,000+ free recipes)
See What NYC Users Have to Say!
"beats the competition"
Editor's Pick - Review by SoftwareCocktail.com
 "trips your trigger like no other"
Review by Silicon Times Report Editor
Registered NYC users in:
71 countries 10 Canada provinces 50 US states
sales@loginetics.com      techsprt@loginetics.com
By accessing or using this web site, you accept these Terms of Use
Copyright © 2013   Loginetics, Inc.  dba Food-for-Thought Software
All rights reserved.